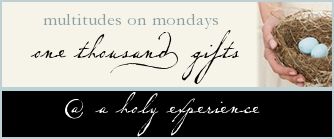 1. Returning home safe from Haiti to see 4 of the most beautiful little faces in the world. They were all just as happy to see me!
2. For my time last week with Vensly and God's little touches he adds to each trip.
3. A husband that loves me and our children and isn't afraid to show it all the time!
4. Parents that are always there for us when we need them.
5. MD Anderson and the doctors that are making my dad well again.
6. New friends that God has brought into my life. (This picture is missing three others that I met this week....I am sad we didn't get a picture with all of us!)
7. Old friends that are always there when I need them and genuinely love me! (This is a picture of some of them with me at our ladies retreat last weekend!)