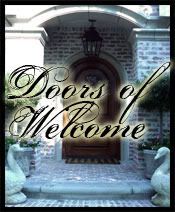 I stumbled upon the cutest blog and thought this was a good idea....that is where I snagged the above button. Click on it to check her cute blog out!
SO...I can't seem to keep my mums looking good this year....not sure if maybe I am overwatering them but as soon as I don't give the water they will die. I am thinking FAKE it the way to go next year!!
I don't have a lot out but these are just a few of my inside decorations.......